Even if you think you're a reasonably good communicator at work, there's always room for improvement. In fact, you may not be aware you have picked up any bad communication habits unless you get specific feedback, e.g. from your manager at a performance review.
No matter what seniority level you're at, with the right training course you can safely identify areas to improve upon, banish poor practices and start developing good communication habits in the workplace.
But first check out our list of bad communication skills. Do any of these sound familiar?
1. Modeling skills on colleagues
Many people learn communication skills when they start their career, or move to a new position, from the colleagues, peers and managers around them. But often senior leaders haven't been to training for years. They have outdated techniques and lazy, bad habits. Think overloaded PowerPoints, way too much technical detail and low, unmotivated energy. Hardly influential.
Have you ever attended an inspiring conference presentation? Likely it was the speaker's confidence and energy that got you excited about what they were saying. They were able to inject energy because they wanted to provide value to others. Keeping your audience in mind is a great way to put the focus on their needs and not make it all about you.
2. Not utilising new skills across all communications
If you've had communications training in the past, it's probably because there was a big delivery looming and you needed some pointers on how to pull it off. In doing so, you likely picked up some skills that you utilise perhaps once a year.
But good communication is a complex skill set needed in a wide variety of scenarios in the workplace, from face-to-face meetings, to over the phone, and in writing. Hybrid working also requires expert virtual communication skills in order to showcase what you want to say effectively.
Therefore you should be practicing all the time – emails, performance reviews, networking events, team meetings and client conversations, can all be uplifted with your new skills and structure for delivering. Don't limit yourself to using your new skills for an important client pitch.
3. Hiding behind technology
You are your best communication tool yet so many people hide behind technology to avoid the focus being on them. They use slides rather than their face and gestures, and they have their video camera off in meetings and fail to connect and build rapport.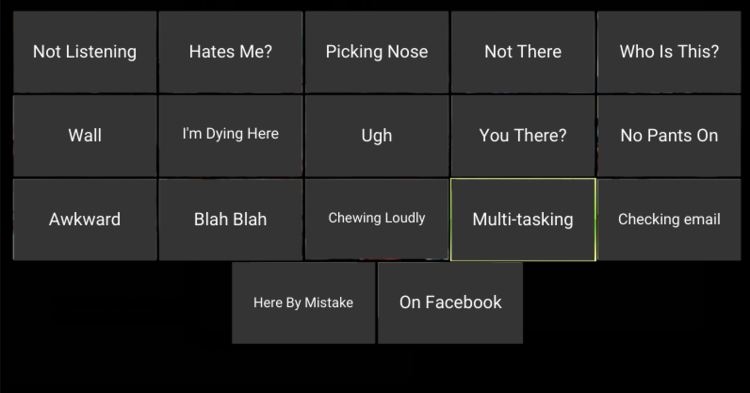 Called 'virtual presenteeism' this is a bad communication habit that many people adopt when working from home. Having your camera off lets you multitask while keeping one ear on the meeting. But it means other participants are unable to visually connect with you and it makes you more inefficient and unproductive.
A recent graduate of our MComms programme, Sharleen, talks about the difference it has made to her project since she started turning on her camera in virtual meetings.
4. Making it all about you or your organisation
I once coached a client who was preparing for a big delivery and was showcasing their presentation to me. The first few slides focussed on who they were, spoke about their company and then took another five minutes to get to anything related to the client they were pitching to. In my book that's a big fail.
The focus should always be on the client first and foremost and the value you can bring to them. Build that connection before you even talk about yourself or your organisation. We have a methodology that speaks to this in our training called 'outcome from the audience perspective' it allows you to diagnose client needs before you speak to them to ensure your presentation hits the mark.
Don't let bad communication skills drown out what you have to say
Do you want to effectively communicate in team meetings or wish you had the tools to deliver a pitch that makes clients sit up and listen?
Our newly revised Mastering Communication Online course will give you four-months of access to 9 modules of world-class communication skills training.
Learn fast for a specific delivery or take each module at your own pace. Feel more confident about delivering an impactful message with tools and techniques you can practice and implement immediately. Find out more about the online Mastering Communication Program here.

The Colin James Method® Facilitators train corporate executives to improve their professional communication skills with a proven methodology. Our highly trained Facilitators and Coaches are recognised for their experience in their fields and have worked with many individuals and organisations around the world to master the art of communication.